Falling off the roof of your house may not be a common problem, but when you're up there performing minor maintenance it's important to stay safe. Sure, you're the master of your domain and you were named Most Balanced in your high school yearbook, but there's no reason to take any chances when you're dealing with the possibility of a 30 ft. fall. There are several options available to consumers and roof technicians to make homeowners and South Jersey contractors who perform roof work safer and easier.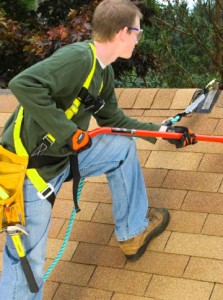 Roof brackets hold a long piece of wood in place that allows the worker to remain stable and immobile, either standing straight or leaning at the angle of the roof. This balance provided by roof brackets is extremely beneficial during roofing projects.
For steeper roofs, you might want to invest in a roof harness. For around just $300, the harness will hold you in place and protect you in a fall, while also giving you full mobility to move around the roof and get the necessary work done.
Safety starts from the very beginning of roof work. Be sure to have a quality extension ladder available so you are safe from the moment you get onto the roof, and take care to place the ladder on a solid, level surface. Also be sure to never do roof work alone. Always have a spotter on the ground or a partner in crime beside you, and don't work on a roof that is too wet or covered in leaves.
Visit Alan Cherry's Exteriors online for more information on South Jersey remodeling.