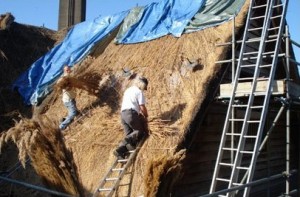 Alan Cherry's Exteriors has been one of the most trusted Cherry Hill roofers for over 40 years, but the history of roofing goes back much further. Roofing dates back to at least 40,000 BC, when people used animal skins such as those of the woolly mammoth. Evidence of this type of shelter has been found in Siberia, Russia. Slating and tiling became the norm in ancient Rome in roughly 100BC, borrowed from the glazed clay roof tiles used in China 5,000 years ago and the flat earthenware tiles used in Greece and Babylon Thatched roofs came on the scene in 735AD. Thatched roofs were the most commonly used method for about 300 years before wood shingles made their debut.
In the 12th century, King John of England decided to trade the thatched and reed roofs of London for clay tiles. This law, passed in an effort to reduce the spread of fires, may have led to the mass production of roofing materials.
The early 19th century saw an increase in the industrial production of clay roofing. Concrete tiles were developed about 100 years later and became quite popular because they are easy to mass produce at a low cost. Most of the known changes in roofing happened in the last 200 years, and, as with many scientific developments, have advanced more quickly over time.
Today, wood, metal, slate, and tile roofs are all in use in different parts of the country and the world depending on the customer's needs. Visit Alan Cherry's Exteriors for all your Cherry Hill roofing needs.