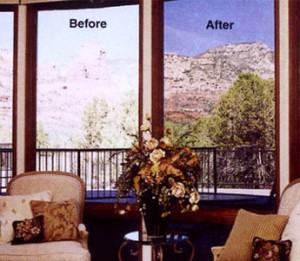 Tinted glass can make all the difference on a sunny day whether the tint is on glasses, cars, or houses. While many are familiar with the benefits of a good pair of sunglasses and the stylish look it adds to cars, people do not realize the plethora of benefits afforded by tinted windows on houses. The perks of installing this window style ranges from increasing your personal comfort to saving money.
One of the main benefits of these windows is that they offer increased heat reduction and heat loss compared to standard windows. During the summer, houses are subject to infrared rays heating the rooms through windows. Tinted windows will block these rays from entering, keeping the home cool on hot summer days. As the film also add an extra layer of insulation on the windows, they will help keep the heat in during the colder months. These windows offer cost savings year round the lowering your houses cooling and heating needs.
Along with blocking infrared rays, tint will also protect you and your house from harmful ultraviolet rays. These windows are great options for those with skin that is sensitive to these rays as there are many with the Seal of Recommend from the Skin Cancer Recommendation. These windows will also protect furniture, carpets, floors, and drapes from the effects of ultraviolet rays. Areas that are exposed to unfiltered sunlight are prone to fading or developing sunspots over time and will require frequent replacements or repairs.
While protecting you from the dangers of ultraviolet rays, it can also prevent injuries from broken glass. If a storm or accident causes the glass to crack or break, windows with tinted film will help stop shards from going into the house. To give your windows extra strength, they make security and hurricane window film that is meant to withstand heavy blows. If your window breaks during a storm, the film can save you from needing emergency services of a roofer in Cherry Hill, NJ.
Window tinting can also provide an added level of comfort to your house. It will greatly reduce the glare on your television and computer screens. When looking out tinted windows, you will see the world as if you just put on a pair of polarized sunglasses in beautiful high definition. When you opt for the darker tints, you will add increased levels of privacy to every room.
As the leading roofers in Cherry Hill, NJ, we can install tinted windows anywhere on your house, including skylights. If you are interested in seeing the difference they can make in your home, give us a call or visit the Alan Cherry's Exteriors website to set up a consultation today.