Many think that the only way they can tell if their roof has any damage is to get up there and look at it. While getting a close up look at the roof will give them a detailed idea of any issues, it is not necessary. You can form a good idea of what is wrong with your roof while keeping both feet firmly planted on the ground. One thing to keep in mind before beginning your inspection is the age of your rooftop. On average, one that has received regular maintenance will last for 20 to 25 years. Our roofing experts have laid out several issues to look for to help you determine if you need to look for contractors in South Jersey.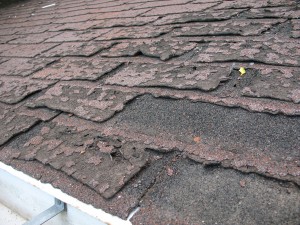 Leaks: Before going outside, go to your attic and look for signs of leakage. If you can, look behind the insulation for wood that appears damp. You should also look for peeling paint and signs of mildew and mold growth as they can be signs that your roof is leaking.
Curled/Buckled Shingles: As the shingles reach the end of their lifespan, they may begin to curl or buckle. Excessive heat and moisture trapped under them can also cause them to lose their shape. It is important to address curled and buckled shingles as they make it easier for wind to tear them off and for water to enter the house.
Cracked/Missing Shingles: High wind speeds and hail can easily shred apart an older roof, allowing water to seep into the house and under the rest of the roof. If you notice any are broken or missing, you should call Alan Cherry's Exteriors to repair the roofing immediately.
Missing Granules: If your shingles begin to look dirty or you are finding a large amount of granules at the base of the gutter after a rain storm, you will likely need new shingles installed. Granule loss can be the result of age or the improper placement of a drainage system.
Looking for these signs during your ground-level inspection of the roof will help determine if you need to begin your search for trusted South Jersey contractors. If you suspect that there is an issue that should be addressed, give Alan Cherry's Exteriors a call today!