The spooky season is upon us. From city blocks to suburban neighborhoods, families are gearing their homes up for Halloween. This is your big chance to shine. This is your moment to be the cool parents who give out king-sized Snickers and set up an interactive scare zone that is sure to terrorize the neighbors in a playful way.
Here are five awesome decorations that will help turn your home into a haunted house this Halloween:
1 – Animated Figures – From ghosts and zombies to bats and werewolves, bring your scare-fest to life by having moving creatures that will frighten trick-or-treaters of all ages. Some are on a timer, and some can even be triggered remotely by a user who has the mobile controller.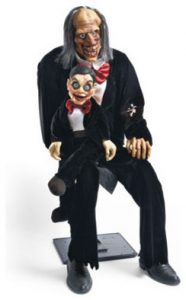 2 – Spider Webs – The best part of cobwebs is that they can be used inside and outside, and there is no limit to how much you can use. Fill your entire garage with these spooky faux silk webs so visitors have obstacles to avoid on their trek toward Reese's and Kit Kats.
3 – Jack-O-Lanterns – No matter how you decorate yours, these classic decorations are great finishing touches for entry ways to houses, condos, apartments, and even businesses! Some great Jack-O-Lantern ideas for Halloween in 2016 include minions, witches, Zombie Trump, and Haunted Hillary.
4 – Fog Machines – Fog machines add the element of surprise and mystery to your haunted home. Combine these with the other decorations and your house is certain to be a scream of a time for kids and parents alike.
5 – Cemetery Props – Turn your front yard into a graveyard to liven things up. Ok, well maybe "liven things up" isn't the best phrasing, but you get the point. Tombstones, bones, and coffins make for the perfect decor for grassy areas that need some freakish flare.
While we don't specialize in horrifying decor, we can do our best to help remove rooftop cobwebs and props while we are up there. From the interior to exterior, Alan Cherry's Exteriors is an expert when it comes to home remodeling in Cherry Hill, NJ,  and home remodeling across the entire Deptford Township (NJ).
Our prices are so low it's scary! For more information, call 267-356-4422 today. BOO!