You've probably been told that "It's Spring!" a hundred times. This is not breaking news. What IS breaking news is the influx of incredible renovations and installations that Alan Cherry's Exteriors is undertaking!
Put down the broom for a second. Don't worry; your Swifter isn't going anywhere. Sometimes we worry so much about the interior of our nests, that we forget to protect the exterior! If you have damaged shingles, siding, roofing, or windows, it is beneficially both visually and financially to take action before the harsh weather hits. Give your home the full spa treatment, by upgrading its roofing and siding before winter creeps back into your lives…
Check out the latest home makeover compliments of Alan Cherry's Exterior!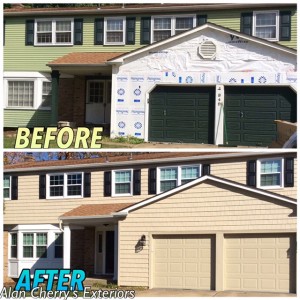 This transformation shows you exactly what South Jersey home remodeling is all about.
Before: Totally Tolerable.
After:South Jersey Snazzy!
New GAF Timberline shakewood shingles.
Certainteed wicker cedar impressions
Vinyl siding with new Wincore Windows!
To view more of our awesome Before & After's take a look at our website or visit our Facebook page!
Six things that we utilize to beautify your house:
Lifetime Shingles – top-selling shingles with Advanced Protection Technology.
Leak Barrier – protects against leaks caused by extreme weather.
Roof Deck Protection – flat-lying moisture wicking root protectant.
Starter Strip Shingles – less likely to blow off.
Cobra Attic Ventilation – eliminates waste and may qualify for warranty.
Ridge Cap Shingles – looks great and helps to increase property value.
Trust the experts. Our experience gives you quick service that is high-quality and affordable. We've been in business over 39 years. Our work crews have tremendous training and expertise. Our installers are factory trained and certified. Our company is bonded, insured, and GAF Certified. We handle everything from Delran, NJ, roofing to vinyl siding replacements around Cherry Hill.
All of the siding panels carry a lifetime warranty. They come in a variety of sizes, colors, and profiles so you can control every last detail. Alan Cherry's Exteriors is a proud winner of the CertainTeed Award of Excellence in 2010 and 2014! Our accolades, referrals, and return customers speak for themselves!
Now, it's your turn to see what all the hype's about. For more information on how we can transform your home, take a look at www.cherryswindowsidingroofing.com or call 267-356-4422 today!