Design your own personal winter wonderland, and give yourself the gift of a beautiful home this holiday season. At Alan Cherry's Exteriors, we'll install gorgeous siding, roofs, and windows that will help your house sparkle like a string of Christmas lights!
Here are a few ways that our experienced team's exterior home services can help you enjoy a holly-jolly holiday season:
Welcome Santa to Your Home!
When Santa Claus stops by every home in the world to deliver toys to good children, his reindeer need a safe place to land. Is your roof reindeer-ready? Check out our new infographic to see!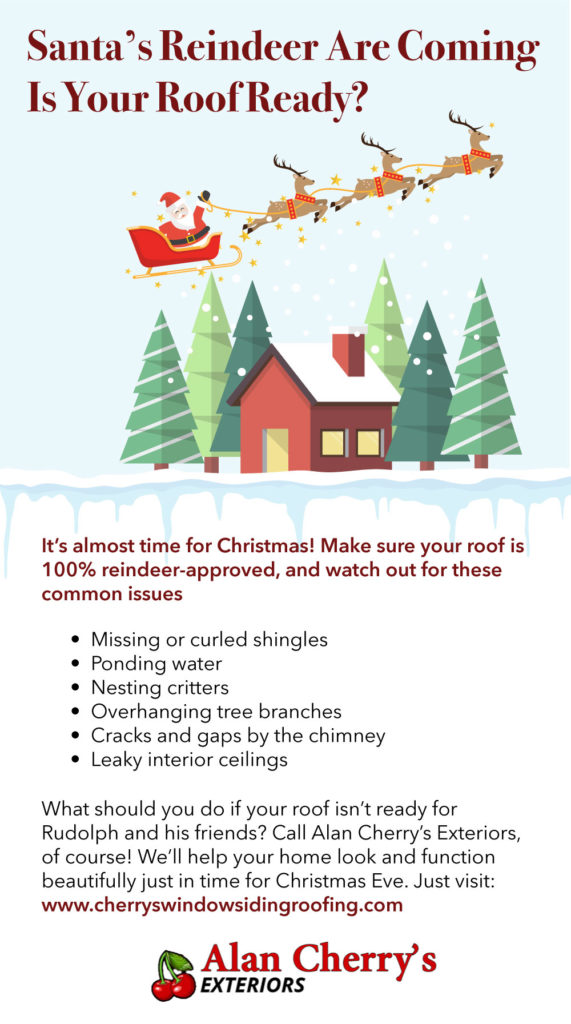 Stay Warm and Cozy All Season Long!
When Jack Frost comes to town, you want your home to be toasty-warm, but you don't want your heating bill to climb higher than your thermostat. How can you make sure that the air you just warmed up doesn't sneak out into your yard? Easy! Call our team about roof and siding repair or replacement.
All of our roofs are made with the GAF Lifetime Roofing System, which provides several layers of protection against wind, rain, snow, and extreme temperatures. Our vinyl and cedar-look siding, which is crafted by CertainTeed, also offers beauty that can hold up against the elements.
While you wait for our expert repairmen to arrive, here are a few more ways to stay warm:
Open your blinds and let in the sunlight.

Move furniture away from heating vents.

Cook with your oven.

Enjoy a cup of warm cocoa.

Place a rug on hardwood floors.

Cuddle with your pets.
Host an Incredible Holiday Party!
As you start to plan a holiday gathering for friends and family, your to-do list will quickly grow a mile long. Who still needs an invitation? Have you vacuumed and dusted and scrubbed your house? What are you cooking, and what should your guests bring along? It's enough to make you dizzy!
Take a deep breath. Your guests are coming to have fun and spend time with someone they care about — you! Of course, it's totally normal to want to put your best foot forward and impress your guests.
When you call Alan Cherry's Exteriors, we're always happy to help you make sure that your guests are blown away from the moment they reach your home. Nothing makes your holiday decor pop like a brand-new exterior, after all!
Watch our new video for a few recommendations:
Embrace a White Winter!
When you're dealing with snow and hail damage in Deptford Township, NJ, it can be hard to love the winter. After all, heavy snowstorms and hail storms can turn tiny cracks and leaks in your shingles into big holiday headaches.
Remember when you were a child and snow was the most wonderful thing in the world? You can bring back that magic when you make your home practically winter-proof.
With Alan Cherry's roof repairs, you'll never have to stress about the winter weather. Our GAF Lifetime Shingles are built to last. You can give them a little extra boost with accessories like leak protection, cobra attic ventilation, and ridge cap shingles. We're also happy to fix up your siding. Once your roof and siding are acting like a warm winter coat for your home, you'll be singing "Let it snow, let it snow!"
Your Shopping List Is Missing One Important Person…
…Yourself! After all, you deserve a holiday treat just as much as your friends, family members, and other loved ones. So think about what you really want, a fantastic purchase that you might not splurge on during any other time of the year.
You deserve a gift that will make you smile every time you look at your property, whether it's sparkling with colorful Christmas lights or bursting with flowers in the spring. A new roof and stylish siding will transform your older home into the ultra-modern house of your dreams. When your home's exterior looks great, you will feel so much joy and cheer!
Happy Holidays from Alan Cherry's Exteriors!
Whether you need to fix hail damage to your roof in South Jersey this winter, or you want to brighten up your home's exterior before you start decorating your lawn for the holidays, the Alan Cherry's Exteriors team wants to make your holiday season just a little more jolly.
Learn about all of the exterior services we're offering this winter when you call 267-356-4422 today or send us a message online!