No, there's not a witch living in your home, but try telling the neighborhood kids that when they see your loose shingles, peeling siding, and drafty windows. An outdated house can look downright spooky — and not in an excited-for-Halloween kind of way.
When you put on the porch light this year, local trick-or-treaters should feel welcomed to your door, not frightened by your home's worn-out exterior. This Halloween, give yourself a fantastic treat: Brand-new roofing, siding, and windows!
The team at Alan Cherry's Exteriors is here to walk you through your autumn home remodeling project near Cherry Hill, NJ. We will always provide excellent service and absolute honesty, with none of the tricks and scares common during this creepy season.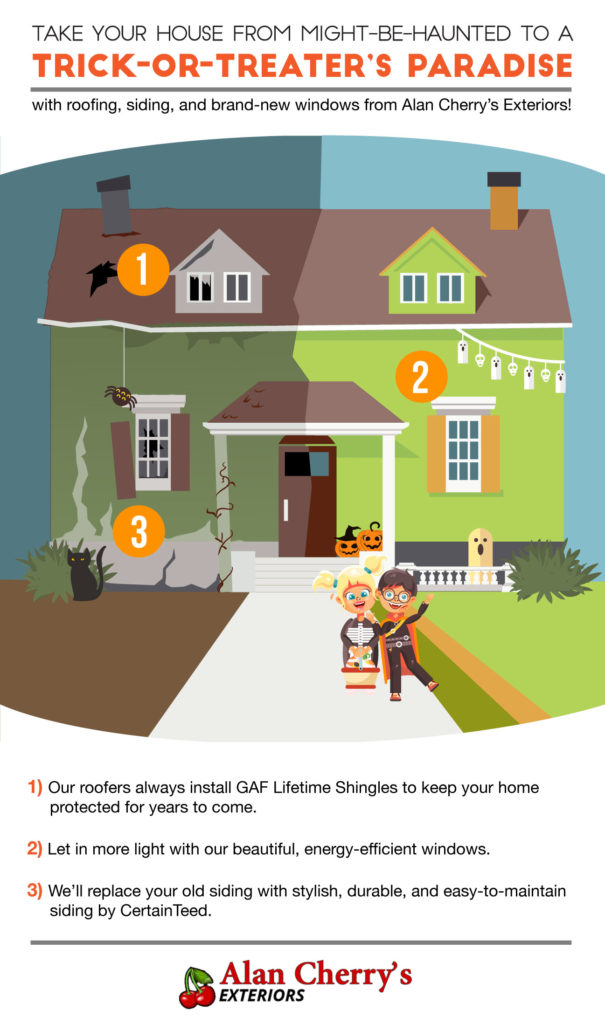 Cue the ghosts, the goblins, and the yowling black cat because here are a few ways that our renovation experts can help you to feel safe and cozy this fall:
Prepare for Dark and Stormy Nights
The sky darkens, lightning strikes, a mysterious stranger is lurking outside your door, and worst of all, the rain is leaking right through your ceiling! Small cracks and breaks in your shingles can allow rain to seep inside your home. Later, when the winter snows start melting, that little drip can cause your ceiling to suffer water damage, so it's best to take care of it now.
As a strong gust rattles your windows, you might also start to think about your roof up above. One missing shingle causes a gap that lets the wind squeeze in and lift other old shingles right off your roof!
Fortunately, our GAF-certified installers offer roofing repairs and replacements that will keep you safe and dry from fall until spring! We use the latest technology to keep wind-driven rain out, including leak barriers, roof deck protection, ridge cap shingles, and more.
When a Chill Runs Down Your Spine…
…all the way to your toes, your insulation might not be quite up-to-snuff. Once winter arrives, that little chill leaking through your window, sneaking through your siding, and crawling down from your roof will turn into a real monster. Save yourself the stress of scarves and mittens in your living room and a sky-high heating bill in your mailbox.
To keep your home cozy for a not-so-scary price, you need to start thinking about what's in between you and the icy winter weather outside:
Windows:

You are probably losing quite a bit of heat through your windows. In fact, an Energy Star survey found that homeowners in the northern United States can save up to 20% on their energy bill by replacing their old windows.

Siding:

Your home's siding is its first line of defense against cold temperatures. Our

fully-insured vinyl siding

will act like a warm winter coat for your house.

Roofing:

Heat rises, so the last thing you want is an easy escape-valve at the top of your house. Replace old, cracked, and missing shingles with durable new roofing!
Give Your Home a Cool New Costume
The best part about dressing up for Halloween is that everyone has the chance to express their personality and show off their style. From superheroes and princesses to crayons and evil clowns, you'll see all sorts of costumes on this evening of mischief.
Doesn't your house deserve to dress up, too? Give it a beautiful new look this Halloween with stunning Cedar Impressions siding, gorgeous GAF Lifetime Shingles, and shining Wincore Windows — all installed by the professional team at Alan Cherry's Exteriors.
Start Counting Down to the Next Big Holiday
If you prefer eggnog and Christmas classics to candy corn and scary movies, then Halloween is an exciting reminder that the winter holidays are coming soon. Parties, celebrations, and outdoor decorations mean that quite a few eyes will be on your property. Will your home be the talk of your holiday party or have the same old look as last year? Schedule your home remodeling project in South Jersey for the autumn to ensure that your new renovations shine come December!
The Finishing Touch to Your October Home Remodeling Project
If you're a lover of all things All Hallows Eve, then you need to make sure your home is frightening for all the right reasons. Check out our infographic below, and you'll find Halloween-ready decorating ideas that will turn your beautiful property into the set of a horror film for a single, unforgettable night.

Give us a call at 267-356-4422 or contact us online to schedule your free evaluation this Halloween, whether you need a full exterior renovation or a few small fixes!