Alan Cherry's Exteriors builds and repairs roofs for all types of homes in many different neighborhoods throughout Philadelphia and South Jersey, but we've never seen anything like this. David Saiia, a professor of sustainability and strategic management at Pittsburgh's Duquesne University, has developed plastic thatch, a sensible alternative to traditional thatched roof design. Generally, the residents of poor nations who live under thatched roofs rely on certain grasses, which make leaky roofs that insects live in, and corrugated tin roofs, which trap heat and create an uncomfortable living space.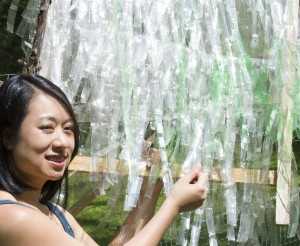 Plastic thatch has provided a solution to these more rudimentary building materials. And because plastic thatch is made from discarded plastic bottles, the method serves as a great form of recycling. The project is part of Saiia's strategy to help indigenous people out of poverty while preserving the surrounding habitats. After seeing the plastic bottle debris all over the scenic Andes cloud forest on the Ecuadorian nature preserve Maqui Picuna, Saiia tried to come up with something to do with all the garbage. Turning it into building material helps deal with both the pollution and the housing issue.
An unintended but welcome side effect of plastic thatch was that as the roofs gradually collect dust and dirt and turn into NOGRs or Naturally Occurring Green Roofs. The prototype roofs in Maqui Picuna grew rare orchids and bromeliads. Additionally, the soil diffuses direct sunlight, increasing the life of the roof.
Although Alan's Cherry Exteriors is probably not going to add plastic thatched roofing to our list of services any time soon, we always enjoy sharing innovative ways to build and repair homes.