When is it time to replace your roof? First off, the best time of the year to replace a roof will always be in the spring because most roofers—like Alan Cherry's Exteriors—have not yet gotten too busy. Therefore, when warmer weather finally hits and you think you need a roof call us immediately so that you do not have to wait!
What are some signs that will indicate that your roof may need repairs and/or replacing?
1. Your Roof is Leaking!
One rainy day in April you come home, throw your raincoat on a chair, place your umbrella in your closet, and then walk to the TV room only to notice that the carpet is soaked. Immediately after you are done drying the spot with a handful of towels and place a bucket where the wet spot was, you hear a dripping noise and then look up. The roof is leaking! 
There is no denying that when your roof is leaking, that means that there is something wrong with your roof. However, even if your roof is not leaking directly above you, your walls might be wet—another clue that will indicate your roof's integrity needs to be evaluated.
Instead of waiting a day or two for the storm to pass, you should call a roofing contractor to come out and inspect your home immediately.
2. You Notice an Overwhelming Amount of Cracked or Missing Shingles
Another easy way to tell if your home needs a new roof will be if there is an alarming amount of cracked or missing shingles.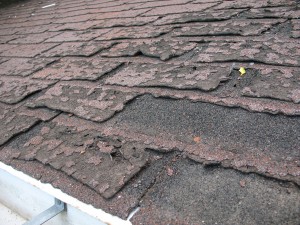 Also, if you notice that there is only a couple missing, you do not need to pick up the phone just yet. However, if your start noticing an unusual amount of light in your attic (after doing a manual check) it may be time to hire a roofing contractor to come out and perform an inspection. Additionally, we do not suggest that any residents attempt to check their home's shingles on their own. Many roofing specialists will evaluate the condition of the shingles much more closely than any homeowner.
3. Your Roof Has Not Been Checked On By a Professional for Over Two Decades
How long has it been since you had your roof checked? Do you remember when you had any work done on your roof? If you are uncertain about the answers to any of these questions, calling a roofer should be a top priority before it gets too hot or cold outside for someone to evaluate its condition. Inevitably though, if your roof is close to being over two decades old, we highly suggest having it inspected (even if there isn't any leakage) because you never know what could happen. Also, having a new roof offers may benefits in that if can improve the air quality in your home, and it can also reduce how much a heating or air conditioning unit needs to work.
At Alan Cherry's Exteriors, we provide roofing service in Marlton, NJ, and also serve as a Cherry Hill roofing company. If you believe that your roof needs to be repaired or replaced, we will have one of our professionals out to your home as soon as possible!